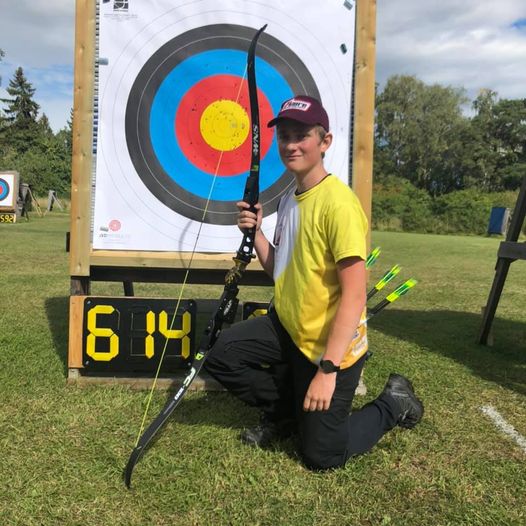 Personal Details
Name: Leo Pettersson

Date of birth: 2003

Country: Sweden

Occupation: Student






CV Archery
Leo Pettersson born 2003. This year Leo has broken 11 Swedish Records, 10 European Records and 10 World Records (WA) in Cadet Men and Junior Men. He is 17 years old and has three more years left as a Junior.
You can find more details about his world records here.
Leo first tried archery four years ago and he showed talent right away ("It felt natural to shoot arrows") and then he started in a club in Stockholm. From day one Leo shoots Barebow.
Before Leo started archery he played football (soccer) and table tennis, but neither of the two sports was his thing.
For a year now, Leo has been studying economics at the Swedish Archery High School, where he gets the opportunity to practice archery even during school hours.
Leo loves to compete and has won more than 60 tournaments around Sweden in these few years, including gold at the Junior Swedish Championship. He has also competed with success in Norway and Denmark with medals at NUM (Nordic Youth Championship).
He longs to go to The Lanchaster Classic and maybe even study at a university in the USA later. He
dreams of getting a scholarship. Another dream competition abroad is the Roma Archery Trophy.
Another big goal is to represent Sweden in the World Archery Field Championship in Yankton 2022.
Leo is active on social media – Instagram @leo_barebow_archer
Leo is also the first archer in a long time in Sweden that the media has noticed, the country's largest newspapers, radio and television, have all done several reports about his world records.
References on media
https://www.aftonbladet.se/sportbladet/a/qALA3e/supertalangen-leo-har-sex-av-atta-mojliga-varldsrekord
https://www.expressen.se/sport/foreningsliv/glomde-skjuta-en-pil-slog-fyra-varldsrekord/
https://www.svt.se/nyheter/lokalt/orebro/17-arige-leo-siktar-mot-nya-varldsrekord
https://sverigesradio.se/artikel/
Equipment
Gillo GT 25 ILF with a Rcore custom made grip, WNS FC-100 68" 34#, Beiter plunger, Bidrop 2020 arrow rest, string from Podium Bowstrings, Easton ACE 670 with 100 grain upfront, Beiter nocks, Eli Vanes S3 and a Yost Pro tab.
Other information about Leo

Family
Lars-Ove, 53, sports journalist and nowadays also a barebow-archer, coach and manager for Leo.
Ann, 46, CFO at Spritmuseum, Leos biggest supporter.
Nova, 16, plays soccer 6-7 days a week and she has won the Swedish Championship as a 14-year-old.
Favorite food: Grandma's swedish meatballs
Favorite movie: The Star Wars franchise
Favorite book: Hunger games
Favorite game: Minecraft
Interests besides archer: Archery
Other: Longing for a driver's license next year.