Description
Watch a video on how to customize your own grip by Jake Kaminski.
With the R-Core R3 Moldable DIY grip kit, you can make your own, totally customized grip easily and safely.
The grip and material are totally reusable, so you can re-mold it to your liking even after shooting with it. With just one kit, you can reach your ideal grip shape after as many iterations as you may need.
The thermoplastic included, is skin and food safe, does not produce any fumes and it is non-toxic. It is much safer than building your grip with epoxy putty, which produces fumes, and may cause an allergic reaction to the skin.
In the kit, you get :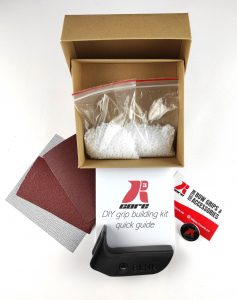 a "blank" grip, which is a neutral, low grip you can freely build upon and fits perfectly to the riser of your choice.
Two packs (60grams total) of thermo-moldable plastic granules, enough to build a big grip, in high angle and still have material left for experiments.
A printed guide (and an ever-updated downloadable PDF) on how to go through the process
3 pieces of different grits of sandpaper, to finish the grip to your liking.
Scan and multi-reproduce
We also offer a scan/ reproduce service.
You send in your R3 kit grip, in its final form.
You choose the material/color combination you like.
We scan it and print it for you, in your selected color.
As an additional bonus, you can order the exact same grip for any other riser you have.