Description
The YEO grip represents the culmination of years of grip design by Olympian Patrick Huston and his Coaches in Great Britain.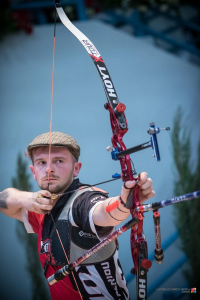 The Grip is designed to allow technical progression of the archer and to assist him in developing optimum recurve technique.
It comes in three versions:
Ye0-Lo is designed to allow the archer precise placement of the radius bone of the forearm onto the Grip allowing accurate pressure point placement onto the thumb. We recommend that this Grip is used for a period of 3 to 6 months to allow the archer to technically develop their technique and also the tissue of the hand to optimize results.
Ye0-Go is designed to allow the archer full expansive capabilities from the front side of the archers' anatomy. The front arm drives forward like a piston under pressure, pushing towards the goal stop the continuation and direction of follow-through. This allows the archer to optimize his shot and achieve the highest scoring potential from his current skill level.
The Ye0-Go is 15° higher than the Ye0-Lo grip allowing for more direction through the deep front arm line Fascial Continuity which provides pressure into the metacarpal of the hand so the archer fully engages both sides of the anatomical structure of the arm. Patrick refers to this structure as the 'Inside Out Shoulder' which provides the archer with optimum stability from the sternoclavicular joint, the acromion process and the head of the humerus being supported by the rotator cuff muscles.
The Ye0-Lo and Ye0-Go Grip Combination allows the archer to adapt their physical shot sequence and shape:
The Ye0-Lo Grip being used to learn the technical requirements of pushing with a 'broken wrist' allowing the hand to relax and direct the bow towards the target with a front hand release. This pressure towards the middle of the target is created through the serratus anterior segment of the spinal line which pushes the front hand and arm into the target.
The Ye0-Go connects the relaxed front hand into an active bow arm resulting in the highest scoring standards available to the archer from their current technique.
The Yeo-Pro is a mid height version of the Yeo. It blends the bine-stacking relaxation of the Yeo-Lo with the direction enabling angle on the Yeo-Go which Patrick has moved to over years of competing.
This may be Patrick's recommended grip nowadays, but the Lo particularly still has great benefits with regards relaxation of the hand's muscle and bone structure.
On Patrick's Facebook Instagram and YouTube pages are many videos which can assist an archer in learning technique in the optimal fashion through training and technical advice below are linked to some videos which specifically apply to the Ye0-Lo and the Ye0-Go principles.
Ye0 Lo – 3D Interactive Model